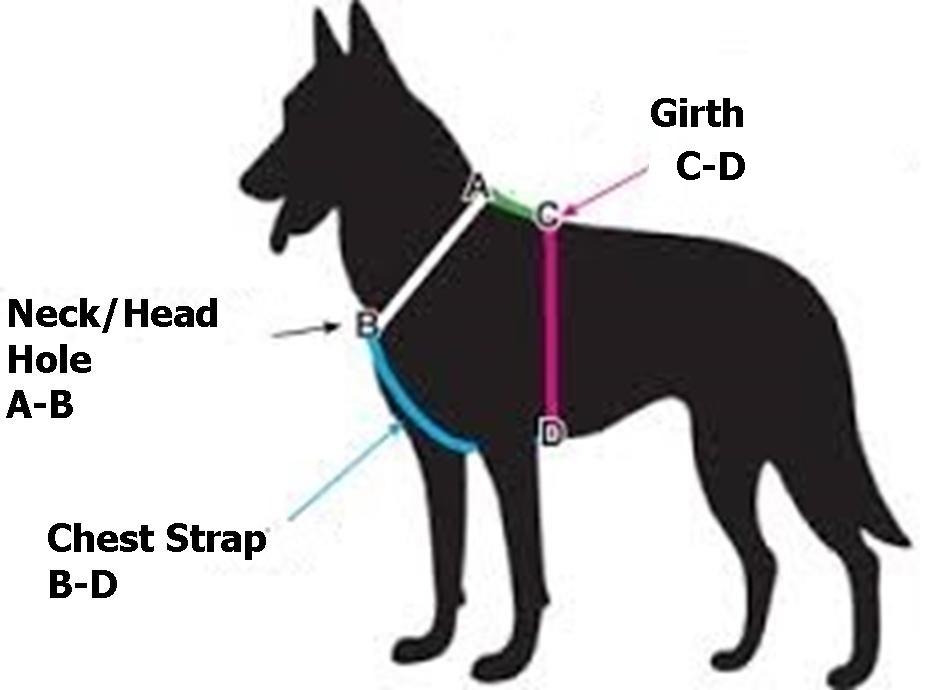 How to measure your dog for a harness, collar and coat.
How to measure your dog for a harness
To measure you will need a soft tape measure (not a steel one) and it is best to have your dog standing up squarely and measure in cm. The chest/girth measurement is taking the tape measure right around under your dog's body at the fullest point in a complete circle a few cm behind your dog's front legs (C-D on the diagram above). Measure loosely allowing 2 fingers either side for ease ( as you would a collar) If the dog measures towards the top end of the range of harness size, and depending on dog's sex, age and breed, it may be worth considering ordering a size larger, please call for advice.
**Bull breeds and deeper chested breeds may need a bespoke half size, please read below if you have a dog that falls into this category such as (but not limited to) Daschunds, Staffies, Dogue Du Bordeaux, Pugs, Cross Breeds, etc
For a bespoke harness the neck/head at the widest point measurement is required too (A-B). For this measurement, make a loop with the tape measure and adjust the size until it slips on and off your dog's head easily. Read off the measurement of the loop. Remember, the neck measurement is only required for being able to comfortably fit the harness over the head so if head at its widest is larger than the neck, its the head measurement we need. For a bespoke harness for a deep chested breed the Chest Strap measurement (B-D) is also required.
**Remember to use the GIRTH measurement to order, the sizes below are given as a guide for neck/head hole sizes: these are NOT girth sizes
Head/Neck size for Size 0 up to 30cm,
Head/Neck size for Size 1 up to 31cm,
Head/Neck size for Size 2 up to 38cm,
Head/Neck size for Size 3 up to 43cm,
Head/Neck size for Size 4 up to 50cm,
Head/Neck size for Size 5 up to 54cm,
Head/Neck size for Size 6 up to 60cm,
Head/Neck size for Size 7 up to 70cm.
Please measure your dog carefully, as the secret to getting the perfect fit harness is ordering the correct size! If in doubt, you are welcome to send us your actual measurements and also let us know whether your dog is still growing or fully grown so that we can advise on size. The chest strap may need to be bespoke so if you are unsure measure points B-D and contact us to make sure you have the correct size.
How to measure for a dog collar:
A-B on image above. Simply take the tape measure right round in a circle to get correct size. A dog collar should not be too tight, make sure you can get two fingers under the collar comfortably when fitted. allow for this when considering size.
How to measure for a coat:
Simply measure along the back of your dog from neck to base of tail. If you want the coat to cover the tail also then meaure to take this into account!